Home

Products

Contact Us

simco
Anti Static Bars AKA Static Eliminators
Static bar, also know as, static eliminator, are a very cost effective way to remove static electricity on a web of material in a plastics, paper, and or film converting application. Remember - A clean static bar is more effective.
Model 1100 High Output Static Bar with Ion-Lite™ technology
PN 91002- 0XXX6

1" x 1" x 5"
25 mm x 25 mm x effective lenght + 127 mm

Model 11 High Output Static Bar
(same as above without Ion-Lite™ technology

1" x 1" x 3"
25 mm x 25 mm x effective lenght + 76mm


Model 21 Shockless Static Bar
91701-XXX00

0.625" x 0.75" x effective length +3"
16 mm x 20 mm x effective length + 76 mm

The Model 4000 static bar for long distance and high speed applications.
PN 92900-0XXX0.

See our DC systems for the highest speed webs or charging applications

Part number codes for Static Bar

The XXX in the static bar part number identifies the overall length of the bar. For example a Model 11 Static Bar with a 12" effective length and a 15" overall length would have a part number #91001-00150.

Model 21, Model 11 and model 4000 static bars are effective length plus 3" for over all length.
Model 1100 bar is effective plus 5 " for over all length.

Optional features static bars:

air boost to increase effective range
double bar to increase ionization output for a given length of bar
Static bars from ElectroStatics come in four basic models with a variety of options, such as air boost, can solve all static electricity related problems. ElectroStatics offers the broadest and most cost effective line of static neutralizing bars equipment to control electrostatic charges and increase efficiency and productivity. Air boost option increases ionization range and assists in contamination control.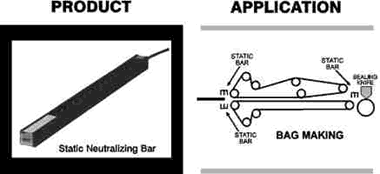 Static bar are the most cost effective method to control static electricity on webs of material.

Power Supplies for Static Bars
Static Bars, Models 11, 1100 require a 4 KV output power unit, Model T1246SL, PN 90010-12463 120V, 50/60HZ or T-2246SL, 90010-22463 PN 220V, 50/60HZ

Static Bars Model 21 & Model 4000 require a 7KV output power unit, Model T-1276SL PN 90010-12763 , 120V or 50/60HZ or T-2276SL PN 90010-22763 , 220V, 50/60HZ.

Approximate dimensions of AC Power supplies
6" x 3.5" x 3.70" (153 mm x 89 mm x 94 mm )